Message from the TMA President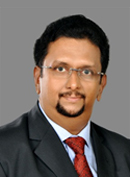 Dear Friends,
"Touch To Transform"
At the outset, let me express my sincere thanks to the members of TMA and members constituting its Managing Committee, for reposing their confidence in me and electing me to this prestigious position. I realise that as much as it is an honour for me, the office of President of TMA comes with significant responsibilities too. It will be my endeavour to discharge those responsibilities to the best of my abilities.
Of course, I begin with the advantage of the excellent work put in by the outgoing team of office bearers and, indeed, by all the preceding teams over the last 28 years .My quest now will be to build on this legacy and work with you to take this institution to greater heights. My motto for the year is "Touch To Transform".
Over the years, TMA has grown as a body to pool managerial thoughts, a forum to develop managerial ethos, an organisation to facilitate furtherance of the profession and to communicate the best business practices to industrial and business community through various seminars, guest lectures and through our mouthpiece, 'Management Voice'
I believe that the time has come for us to widen our ambit, and promote professional excellence in management, even in the unglamorous and often ignored areas, but which make a difference to the citizens of our town. For example, sanitation, waste management and public health care services are areas where greater professionalism and scientific management can make a difference to many ordinary people and I believe we should seriously look for ways in which we can contribute to this cause. This is just one suggestion from my side, but the underlying idea will be that whatever activity or project TMA takes up, the quest will be to bring that touch that transforms, that makes things better, not just for business and professionals but for the community as a whole.
Thank you and best wishes,
Er. N I Verghese
President - TMA